Crafty Cutter Delivery Information
We endeavour to dispatch all orders received by 12pm Monday to Friday (excluding bank & public holidays) the same day. If your order contains any products we manufacture in-house, such as the patterned vinyl, pre-cut decals or acrylic shapes, we ask for a 2 working day dispatch time should the product not be available off-shelf. Orders received after 12pm on a Friday may not be dispatched until the following Monday, however we pick & pack orders up until our postie arrives, so if your order is urgent, please just give us a call and we can confirm if we are able to dispatch the same day prior to you placing your order.
Service
Weight/Size
Cost
Delivery Aim from Despatch

RM48


Up to 100g/Large Letter
£1.72

Normally arrives in 2-3 business days - Not Guaranteed



RM24


Up to 100g/Large Letter
£1.95

Normally arrives in 1-2 business days - Not Guaranteed



Tracked 48


Up to 1kg/Large Letter
£2.55

Normally arrives in 2-3 business days - Not Guaranteed


Up to 3kg/Parcel
£3.35

Tracked 24


Up to 1kg/Large Letter
£3.99

Normally arrives in 1-2 business days - Not Guaranteed


Up to 3kg/Parcel
£4.99




Special Delivery by 1pm - Next Working Day

If the order does not arrive the next day, you will be compensated the cost difference between this service and Tracked 24 Parcel pricing.



Up to 500g - Mon to Sat
£8.19




1 business day from dispatch - Guaranteed

Orders received Mon-Fri before 12pm* will be received Tues-Sat. Orders received on Fri after 12pm are only guaranteed for delivery on the Tues, Orders received on Saturday-Sunday will be dispatched on Monday* for delivery Tuesday.



501g - 1kg - Mon to Sat
£9.62
1.001kg - 2kg - Mon to Sat
£11.77

Overweight/Oversized Parcels


3kg - 25kg
£9.95




Normally arrives in 2-3 business days – Not guaranteed



Free Delivery
Orders over £100.00 - these will be dispatched via a service with a delivery aim of 2 to 3 working days from dispatch. You must select the delivery option at checkout

Click & Collect


If you are local to our offices in Preston, Lancashire – you are really welcome to collect. Please contact us on 01772 729698 to request the code that will remove the postage cost at checkout and let us know when you need to collect by.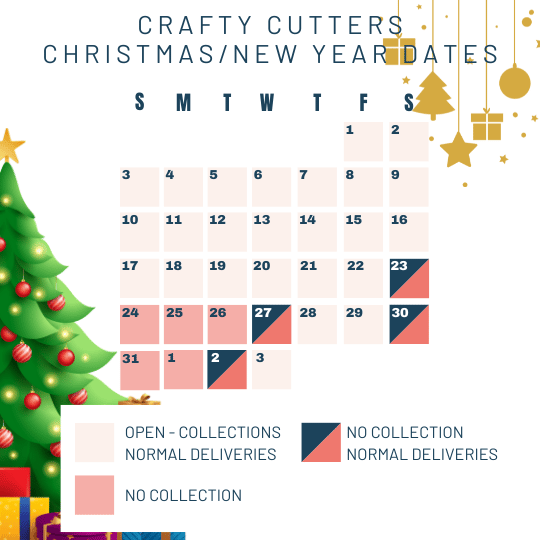 As a small family business ourselves, we understand the impact of the increased cost of living that we're all facing at present. We have kept our postage rates the same for the last 3+ years despite receiving numerous increases from the carriers used within that time (and also the packaging materials!) By streamlining the available options, we've been able to negotiate a fantastic rate on Tracked 48 services – large letter sized packages up to 1kg are just £2.55 (previously £3.39) and parcels up to 3kg are now £3.35 (previously £3.78).
We have kept the RM24/48 options for the small orders of up to 100g. Tracked 24 and Special Delivery options will also be available at checkout – the rates that appear will depend upon the weight and package size of your order (I.e. if your order contains anything larger than an A4, only parcel rates will show.) It is really important for customers to understand that by choosing the more expensive Tracked 24 service, it does not guarantee a next day delivery and there is every chance that this more expensive service could take as long as a Tracked 48 does to arrive. Royal Mail seem to be very much back on track but unfortunately due to the instability of staffing levels due to COVID related sickness, delays can be experienced with both Tracked services and we'd therefore recommend that customers go with the more economical option of Tracked 48. If it is absolutely critical that you receive your order next day, then we would recommend using the Next Day Guaranteed (Special Delivery Service.)
Next Day Guaranteed by 1pm, ORDERS PLACED BEFORE 12pm WILL BE DISPATCHED SAME DAY ONLY *apart from custom/patterned vinyl, any orders placed after 12 noon with next day guaranteed delivery will not be dispatched that same day. e.g. I've placed my order at 12.05pm on Monday and choose next day delivery. My order will only be dispatched Tuesday for Next Day Delivery on Wednesday. Orders placed on Thursday after 12pm will be dispatched on Friday (this is NOT Guaranteed delivery for Saturday)..Friday, Saturday or Sunday for Next Day delivery will also only be dispatched on the Monday to be delivered for the Tuesday. This is stated in the delivery rates as (Exc. Sat, Sun, Mon).. If you're needing a guaranteed service for Saturday delivery please give us a Ring and we can sort something out as it will cost extra.
Orders placed on Bank Holiday weekend, will be dispatched on the Tuesday. So your next day Guaranteed will only be received on the Wednesday.
For International Delivery Please Click Here