Delivery Information
---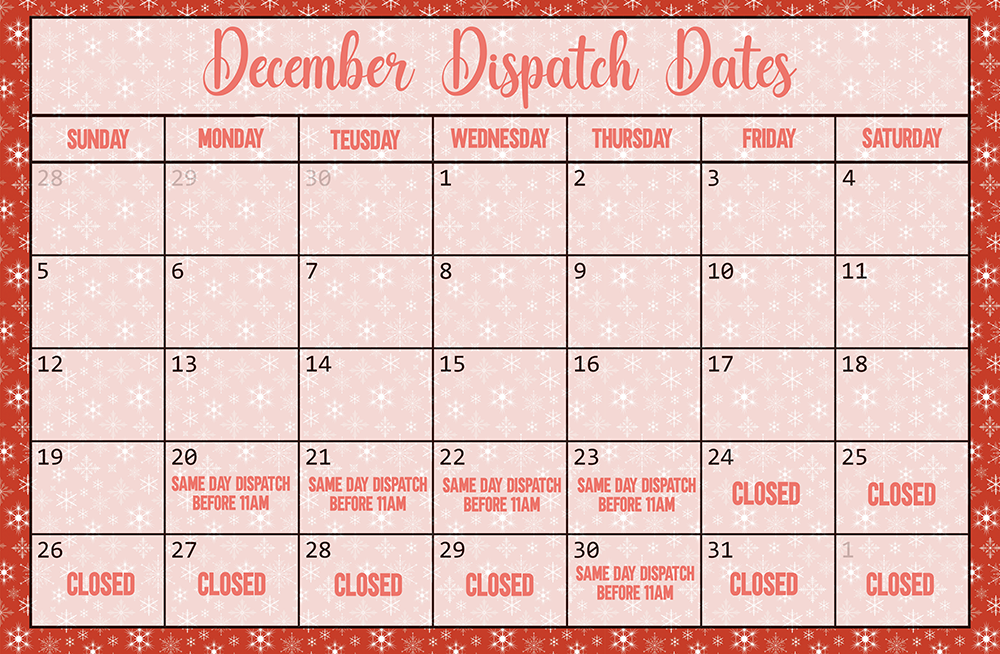 Delivery options are calculated on weight and value of order. Once you have reached checkout, you will be provided with a choice of postage options and asked to select which service you would like your order to be dispatched via - please note that the cheapest option will always appear first in the list.
We endeavour to dispatch orders received by 11am the same day (except for custom/patterned orders which we endeavour to dispatch within 2 working days). Working days are Monday to Friday, excluding bank & public holidays. If your order is received after 11am on a Friday, your order may not be dispatched until the Monday. However, we tend to work pick, pack and dispatch right up until the postie collects, so if you have an urgent requirement, please give us a call (01772 729698) and we will try and help.
Please note that all orders over £30.00 are sent via a tracked service.
NEXT DAY GUARANTEED IS BACK
Next Day Guaranteed by 1pm, ORDERS PLACED BEFORE 11am WILL BE DISPATCHED SAME DAY ONLY *apart from custom/patterned vinyl, any orders placed after 12 noon with next day guaranteed delivery will not be dispatched that same day. e.g. Ive placed my order at 11.05am on Monday and choose next day delivery. My order will only be dispatched Tuesday for Next Day Delivery on Wednesday. Orders placed on Thursday after 11am will be dispatched on Friday (this is NOT Guaranteed delivery for Saturday).. Friday, Saturday or Sunday for Next Day delivery will also only be dispatched on the Monday to be delivered for the Tuesday. This is stated in the delivery rates as (Exc. Sat, Sun, Mon).. If you're needing a guaranteed service for Saturday delivery please give us a Ring and we can sort something out as it will cost extra.
Orders placed on Bank Holiday weekend, will be dispatched on the Tuesday. So your next day Guaranteed will only be received on the Wednesday.
Please note that due to the ongoing COVID situation, the service delivery time is subject to change. You can view the latest information on the Royal Mail website. At the time of writing, next day guaranteed is by 9pm, not 1pm.
Choosing a Tracked Service
If you're choosing a tracked service, you should be getting automated updates via royal mail when your order is on the move. We have noticed this feature is currently down, so please if you have selected a Tracked service, get in touch with us either through email or facebook for your tracking number.
PLEASE ENSURE YOU READ THE INFORMATION REGARDING COVID-19 BEFORE PLACING YOUR ORDER HERE.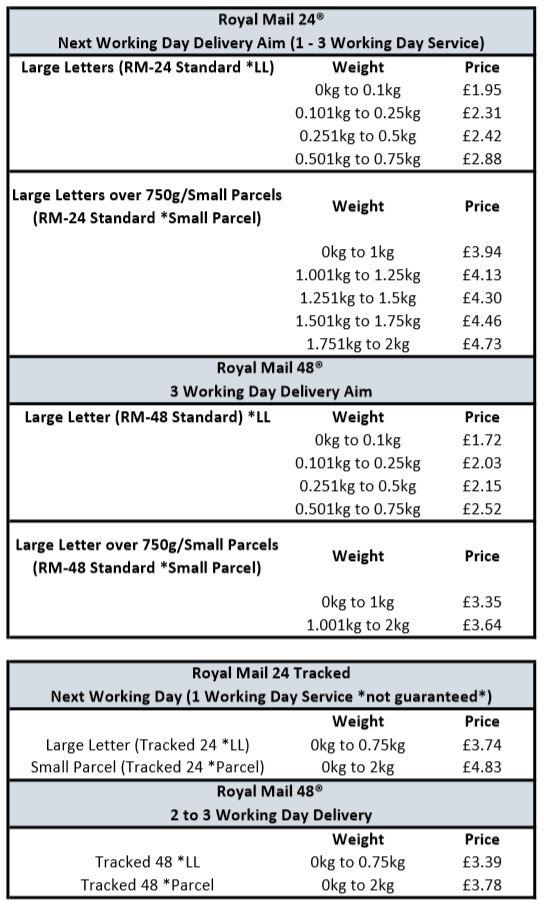 We expect your order to arrive with you within 5 working days from dispatch (Monday - Friday) but are unable to investigate a missing order until 10 working days after Royal Mail's delivery aim.
PLEASE ENSURE YOU READ THE INFORMATION REGARDING COVID-19 BEFORE PLACING YOUR ORDER HERE.
Claiming for loss, damage or delayed order? Click Here